Internet - E-mail Programs at BlueSofts.com listed after program name
Browse Pages: [1] [2] [3] [4] [5] [6] 7 [8] [9] [10] [11] [12] [13] [14] [15] [16]
Order programs after downloads or name or date
301) Friend Mailer 1.12
Private email communications and file share software for home and business use.

---
302) Friends & Accounts 3.oO
The ultimate lister for net freaks! 1-Export collected emails to your clipboard, your default email manager using person-groupsthat have you created

---
303) Friends & Accounts 3.o2
Outlook address book replacement is here!

---
304) FTGate 4.1
Full Featured eMail and groupware server, SMTP, POP3, IMAP, SPF, anti-spam

---
305) G-Lock EasyMail 4.62
Fast email software - Email List Management and Distribution made easy

---
306) G-Lock EasyMail Professional 4.62
Fast email software - Email List Management and Distribution made easy

---
307) G-Lock Email Processor 1.98
Automatically extract data, process/parse incoming, bounced, unsubscribe emails

---
308) GAlert 2.5.2.6
GMail Desktop Alert - A better GMail notifier and Google Alert

---

309) Gammadyne Mailer 25.3
A time-saving utility that automates sending and receiving email.

---
310) Gemini Mail 2.25d
Gemini is an advanced multi-platform, standards compliant, messaging client with powerful features for managing mail from multiple sources including flexible user-specified and junk mail filtering facilities

---
311) Genius Connect 3.0.1.0
Add database connectivity to Outlook or Exchange.

---
312) Genius Connect - Mail 3.0.1.0
Store Outlook or Exchange mail in any SQL Database.

---
313) GetByMail 1.3.1.17
Remote Access & File Sharing by Mail.

---
314) GetMail 2.8
Forward Hotmail, MSN and Pop mail to a main account. Very easy to use!

---
315) GetSmile 1.730
Easy-to-use smilie manager inserts colorful smilies in your messages.

---
316) GFI MailArchiver for Exchange 3
Email archiving solution that enables you to archive mail into an SQL database.

---
317) GFI MailEssentials 12
Server based anti-spam, anti-phishing & email management for Exchange/SMTP

---
318) GFI MailEssentials for Exchange/SMTP 11
Spam protection and email management at server level.

---
319) GFI MailSecurity for Exchange/SMTP 10
Email security solution for email servers and Exchange Server

---
320) GoodContacts 1.1.0
Automatically update contacts in Outlook & OE; Search for old friends on Reunion

---
321)
Green Desktiny 2.0
---
322) GroupMail :: Free Edition 5.0.0.695
Whether it be for announcing new products and services to your customers, delivering and managing newsletters, or simply staying in touch with family and friends - GroupMail :: Free Edition will make the process effortless

---
323) GroupMAN 1.01.177
GroupMAN Listserver For Windows

---
324) GroupOutlook 1.0.1966.32251
Easily and affordably share Outlook calendars, contacts, e-mail, tasks, journals

---
325) Handy Animated Emoticons 3.0
Most handy tool to insert and manage animated emoticons

---
326) Haunted Halloween Email Stationery 1.0a
Musical, Scrolling Email Stationery for Halloween

---
327) HiddenBCC for Outlook 1.0
HiddenBCC is an add-in for Microsoft Outlook 2000/2002 (XP)/2003 which enables you to automatically add a predefined BCC recipient to every outgoing message

---
328) HiddenSave for Outlook 1.0
Save Messages on Send add-in for Outlook 2000/2002 (XP)/2003

---
329) HomeMail Professional edition 1.0
HomeMail enables you to send emails either wi

---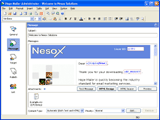 330) Hope Mailer Personal Edition 1.32
Newsletter and email marketing, publishing and tracking software

---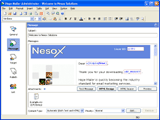 331) Hope Mailer Standard Edition 1.32
Newsletter and email marketing, publishing and tracking software

---
332) HotApoc - Hotmail Gateway 2.0.0
HotApoc allows you to send and receive mail through any number of hotmail accounts using a real email program! - No more need to manually log in to check your Hotmail account

---
333) Hotmail Mail Notifier 3.0.001.02
Notifies of new e-mail on multiple mailboxes: POP3,Gmail,Hotmail,Yahoo! Mail

---
334) Hotmail Popper 3.0.2
Hotmail Popper is a small application that allows you to check your Hotmail account from a normal POP mail client

---
335) Hotmailer 3.0
Hotmailer is a bulk email sender, email address finder and verifier

---
336) HotMailPlus 2.0
Reading and sending e-mail messages through the web-interface of server HotMail.

---
337) HS-Crawler 1.3
Gather eMail Addresses from websites

---
338) HVM MailInfinite 0.5.0.0
HVM MailInfinite is an email campaign software, used to send personalized emails

---
339) HypeMail 3.3.0.0
HypeMail is used to advertise, cause awareness or add standard branding onto your companies everyday 1 to 1 emails

---
340) IGetMail 2.3
Download POP3 email from multiple remote servers to a local SMTP email server

---
341) Inbox Cleaner 1.0.3
Verifies your e-mail messages and deletes SPAM.

---
342) InBox Filter 2.2
Detect and delete spam message from multiple e-mail accounts using flexible online updatable) filters

---
343) InBox Mail Manger 2.0
Handles subscribe and unsubscribe requests to your mail lists.

---
344) InBoxer for Outlook Spam 2.0
Stop Outlook spam without missing important email. Award-winning. Free trial.

---
345) InboxRULES RW Free Edition 2.03
InboxRULES can automatically print and save message, extract data from message.

---
346) Incredimail Backup PRO 1.0
- Incredimail Backup PRO can extract your mail from Incredimail in EML format including all attachments- This utility will also enable you to restore all mail which you had removed (even completely deleted mail)

---
347) IncrediMail Xe
IncrediMail is an advanced, feature-rich email program that offers you a unique interactive experience free of charge.

---
348) indexsoft intuitive mailer 1.95
Web based mailing lists manager intended for satisfaction allmarketing needs

---
349) Inet.Mail Perseus 2.0.10
Hethmon Inet.Mail Perseus is a complete SMTP/POP3

---
350) iNetMail Demo 1.0
iNetMail is a convenient web based solution for online e-mail management.

---